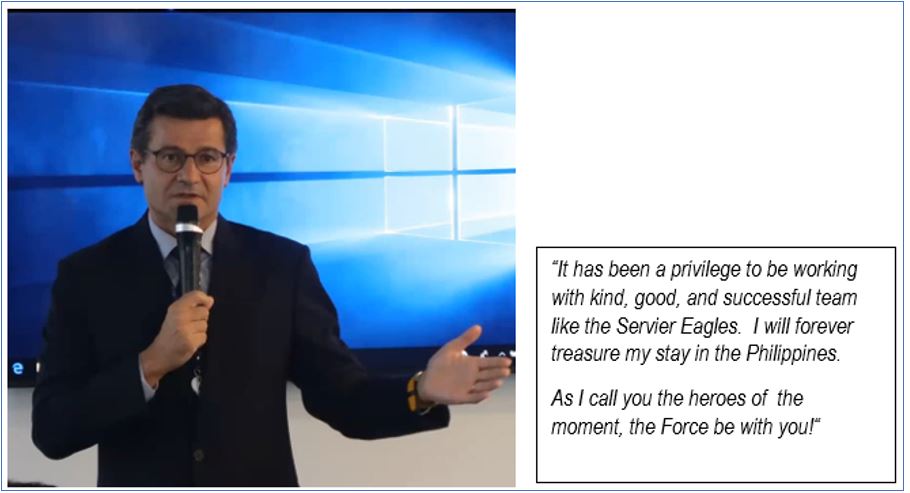 Who says you need a perfect time and venue to celebrate a milestone…to say thank you and welcome across the globe? Well, the pandemic has suddenly changed standards and practices in many different ways for which the audience simply have to adapt.
On 22 June 2020, Servier Philippines hosted the first ever Virtual Turnover Ceremonies connecting the subsidiary with Servier International in Paris as well as with Sevier Indonesia. It was an event to formally witness the "changing of the guards" of two country directors.
After successfully managing the Philippine operations since 2017, Monsieur Guillaume Drianno had to cut short his tour of duty in the subsidiary to respond to a new challenge across the globe. Latest strategic directions and orientations initiated in Servier International's worldwide operations gave way to his appointment as the new Managing Director of Servier Czech Republic.
Taking over the Philippine operations is Monsieur Alban Nerot who is finishing his successful five-year stint at the helm of Servier Indonesia. Joining live from Jakarta, it was a perfect occasion to address the Philippine team whom he has worked with five years ago as Deputy Operations Manager.
Honoring us with their virtual participation from Paris were our Sector Director Monsieur Francois Villete and Zone Director Monsieur Glen Lingam.
It was heartwarming to see and hear Sir GDO addressing the team for the last time and transferring the baton of responsibility to the new boss Sir Alban who graciously accepted it.
Though virtual, the event also provided the venue for the Philippine team to show their heartfelt gratitude to Sir GDO and warmly welcome Sir Alban.
Truly a milestone … Merci et Bienvenue.