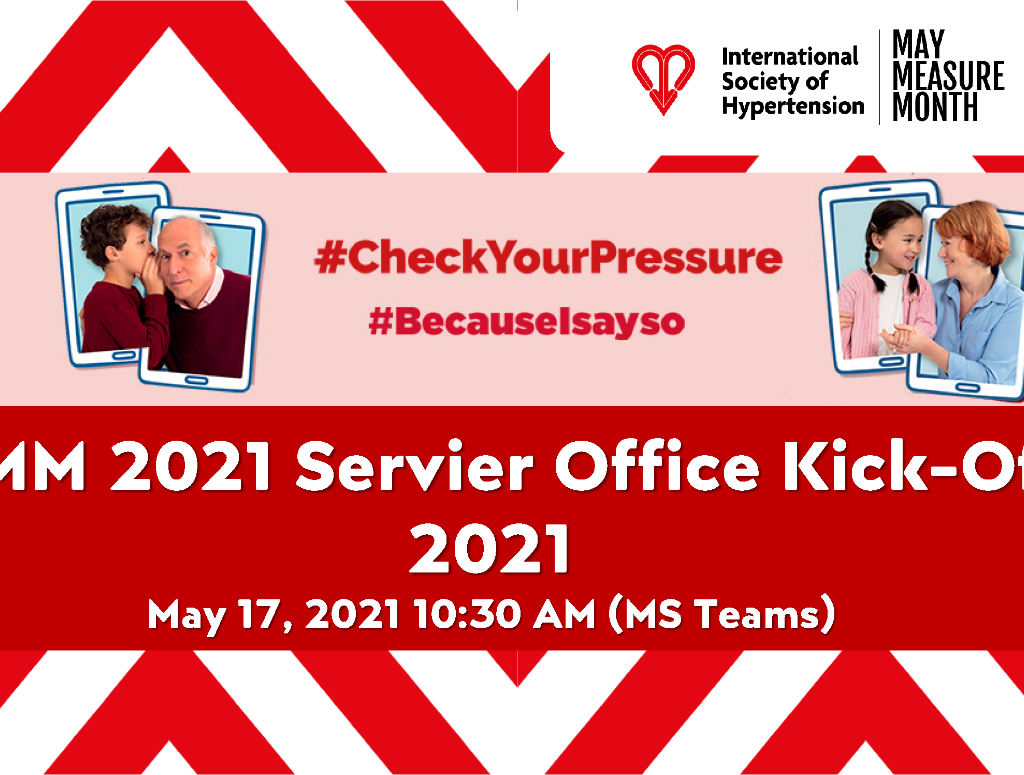 Servier Philippines' employees participate in the fight against hypertension with the launch of the (MMM2021) and #BecauseIsayso campaign.
In time for the celebration of World Hypertension Day on 17 May 2021, the company gathered virtually for the internal launch of these programs.
MMM2021 is a worldwide campaign initiated by the International Society of Hypertension (ISH) in partnership with Servier. The project, which started in 2017, aims to raise public awareness about the importance of having blood pressure checked. #BecauseIsayso is a global awareness campaign aims to improve disease awareness through emotional messages by convincing our loved ones to have their regular blood pressure checked.
For the past 3 years, Servier Philippines remains as a major partner of the Philippine Society of Hypertension (PSH) in the local roll out of MMM. This year, the message is even more crucial as hypertension has been identified as an aggravating factor in Covid-19 patients, and fewer patients have been able to be diagnosed due to greater difficulties in accessing their HCPs.
With an estimated 1.2 billion sufferers[1] in the world, hypertension remains to be the leading cause of mortality.[2]
Hypertension is known as the "silent killer" because it often shows no signs or symptoms, and , if left uncontrolled, can lead to serious cardiovascular disease. A blood pressure test is the only way to know if blood pressure is too high.
Alongside the MMM awareness campaign is the "Because I say so" awareness campaign which aims to convince people to get their blood pressure checked and take their medicines regularly.
Launched worldwide, the third international awareness campaign "Because I say so," aims to refocus public attention by encouraging young adults to motivate their parents and loved ones to get their blood pressure checked. The campaign will be shared on Facebook, throughout the month of May as part of May Measurement Month organized by the International Society of Hypertension and Philippine Society of Hypertension. Various innovative digital patient materials are in place to make MMM2021 a success.
By having their blood pressure checked older adults can better manage their blood pressure and reduce their risk of a cardiovascular event. The purpose of this new campaign is to put this disease back in the spotlight, because talking to those around you – friends or family – about hypertension can make a significant difference in managing the disease.
With its strong commitment to improve hypertension awareness and control in the country, Servier Philippines's continued strong partnership with the Philippine Society of Hypertension (PSH) has made possible sustained patient screenings through innovative approaches amidst the current limitations. These are individualized solutions in hypertension management which can provide powerful control of BP and improved adherence following recent Hypertension Guideline
The first campaign was implemented in 2018, in collaboration with the May Measurement Month (MMM) and ISH. The 2019 campaign was implemented in 70 countries across the globe, and 150 million people were reached with posts and messages on different social media platforms.In 2020, the campaign was focused on treatment adherence to raise public awareness about the importance of taking one's blood pressure treatment every day and following the doctor's advice about treatment. This campaign reached 27 million people with a high rate of engagement.
---
1 Source: World Health Organization (WHO).
2 NCD Risk Factor Collaboration (NCD-RisC). Worldwide trends in blood pressure from 1975 to 2015: a pooled analysis of 1479 population-based measurement studies with 19·1 million participants. Lancet 2017;389:37-55.
[2] Poulter N et al. Lancet. 2015;386(9995):801-812.